It's been a very interesting and highly productive week this week.
I've had positive moves forward on both the gaming and music fronts with some new opportunities arising which will certainly merit further investigation and development in 2009. I've also had some very interesting news on two gaming fronts which I suspect will be announced in mid-January and late-January/early-February respectively once various things are formally confirmed and allowed to be spoken about. All incredibly exciting and positive, although I'm sure both will probably raise some eyebrows and questions of my sanity in certain quarters :p
This weekend sees the Star Industry and Voices of Masada gig at Slimelight. I've spent several nights recently standing outside gigs (in the freezing cold) or infiltrating goth-meetups flyering this and I'm hoping to see a good turnout for the event. So if you like Trad Goth in the vein of The Sisters of Mercy and are in London and free on Saturday evening please come down, watch the bands and show your support! Admission to the gig also gives you free admission to the Slimelight club afterwards which is open until 7.30am and is, apparently, a three-floor special this week!
Come on! last chance to party before Christmas and all that! :p
To help promote this further I not only supply you with a flyer but also a Star Industry track courtesy of YouTube so you can hear them (and realise just ho much they do sound like The Sisters... :p)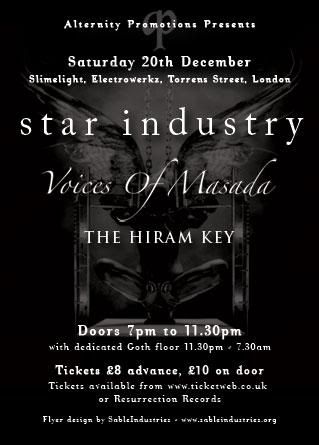 STAR INDUSTRY - NINETIES
On Monday we have a preview screening of The Next Doctor - this years Doctor Who Christmas Special - with the BBC. Well I say "we", but what I really mean is that Chris and Dom are going on behalf of Cubicle 7 as it seems very unlikely I can get the afternoon off work that close to Christmas (sobs very quietly to himself). I've cheekily stuck my name down anyway just in case I can wrangle it - I reckon it should fall under "compassionate leave" to allow me to go to it - or maybe I could sue for "mental cruetly" if they don't let me...? :p

Still, I'll be watching it on Christmas Day with my Mum and sisters anyway so not long to wait.